DISEQUIL

art, with a story
DISEQUIL

art, with a story
DISEQUIL

art, with a story
DISEQUIL

art, with a story
DISEQUIL

art, with a story
DISEQUIL

art, with a story
DISEQUIL
art, with a story
DISEQUIL
art, with a story
DISEQUIL
art, with a story
DISEQUIL
art, with a story
DISEQUIL
art, with a story
DISEQUIL
art, with a story
[ BESTSELLER ] mono. series
Designed 2018-2019: The mono. series was my first pin series I worked on back in Oct 2018 and spanned across 5 months to complete. As the name implies, it is based off of Namjoon's playlist, mono. Each pin design is based off a song from the playlist and how I personally interpreted the track with a bonus pin that represent the playlist as a whole.
For the 3rd anniversary of the playlist in 2021, I have added 2 limited edition variants of the pins in both glitter & pearl for the perfect accent to your mono collection!
7 with you
The 7x7 anniversary collection is a three part series comprising of jewelry (infinite), pins (thank you) & prints (together). They were made & designed to celebrate 7 yrs (and many more years to come) with BTS & ARMY! All of the products in this lines are super minimalistic and subtle, so they can be enjoyed by everyone and anyone for all occasions!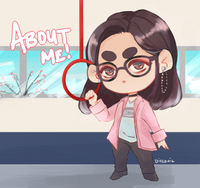 About DISEQUIL
Hi there! I'm Disequil also known as Dissu! I'm an ARMY who often dabbles in fanart & design as a hobby. My first shop was founded in March 2017 with just a small collection of stickers and have since expanded my repertoire of products!
I hope my designs are able to inspire and touch people as music and arts have done for me.  I welcome you to take a look around and hope you find a piece of merch that speaks to you!
I'll be adding  blog posts to this site as well if you would like to see my behind the scenes thoughts and reasonings behind my designs!
Thanks for dropping by & happy shopping!
Read More About My story